Pub crawl details
Brussels Pub Crawl runs 4 times a week during summer season (Wednesday, Thurday, Friday & Saturday at 9:30PM) and 2 times during the winter (Friday & Sat). The crawl starts on Brussels Grand Place (and ends nearby), we meet under the tallest white tower with 2 flags, nearby the wooden door at 9:30PM (21:30). Guides wear an orange t-shirt / polo / hoodie depending on the season, for easy identification. You can purchase your tickets online by card (cheaper) or on the spot in cash.
What is a pub crawl ?
Instead of visiting museums or historical sites, we visit different bars in downtown Brussels. Each bar is very different so you will find one for sure you really like! In each bar, the guide presents you a different deal on different kinds of drinks, usually those deals are exclusive to Pub Crawl participants. Thanks to your Pub crawl wristband, you will pay less than other customers, get free shots and a free welcome beer. To join the tour we just charge 12€ if you book ahead online or 15€ if you just show up at the meeting point without prior booking. The guide will stay with you for over 3 hours and take you from bars to bars. Joining a Pub Crawl is a great way to see the best of the city nightlife while meeting other people.
Meeting Point
Brussels Pub Crawl runs every Friday & Saturday night all year round and also on Monday & Wednesday during the summer. Please note that the meeting point for the Beer Experience & Combo ticket is NOT THE SAME as the one of the Pub Crawl. The one displayed on this page is for people that plan to join the Pub Crawl ONLY.
For the Pub Crawl, we meet in front of the door located in front of the tallest white tower on Brussels Grand Place (main square) at 9:30PM (21:30). You can either book your ticket online (12€) or just show up and pay in cash (15€). If you cannot find the group, arrive late or have a last minute question, contact us via phone +32 2 881 0178 or post on our WhatsApp Support group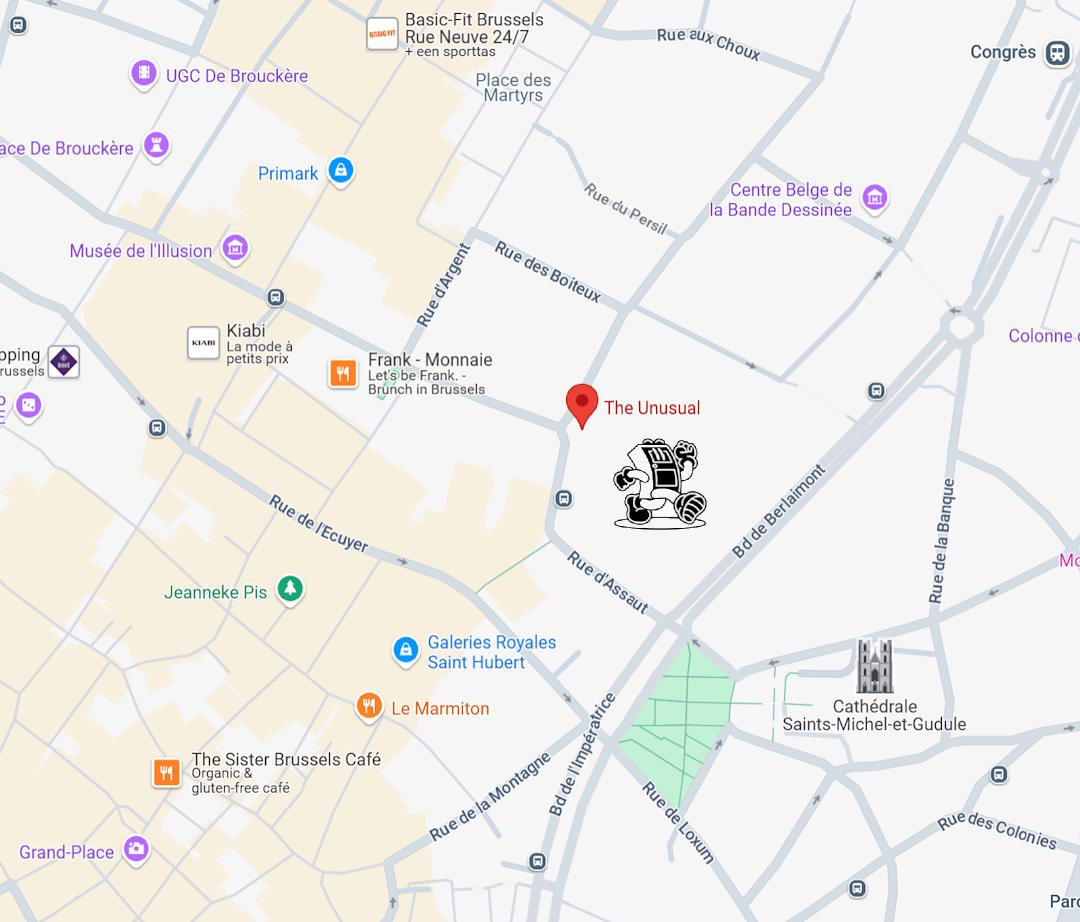 GPS coordinates are: 50.846702, 4.352101 (copy/paste in Google Maps)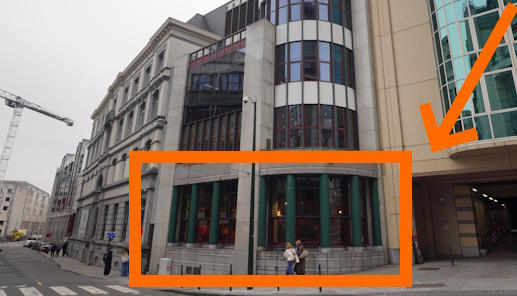 We meet in front of this door at 8PM (beer experience) & 9:30PM (Pub Crawl)
Why is the pub crawl so cheap?
Tired of big corporations trying to take over the pub crawling world, we have decided to set up a local pub crawl, ran by locals for travellers. The main idea is bringing cool people together, staying out of tourist traps and having a hell of a night. We prefer you spend your money on drinks rather than on our tour. Note that if you purchase your ticket in advance online, it only costs you 12€ if you purchase your ticket at the start of the tour, we charge 15€ in cash. We included 4 FREE drinks: 2 beers and 2 shots. Then we negotiated amazing discounts with the bars / club we go to, so you can get much more booze for your bucks!
What about free Pub crawls?
Once in a while we organize free and themed pub crawls. To keep up to date with what's going on at Brussels Pub Crawl, check out our facebook page.
What do I get for 12€?
A free welcome Delirium Beer (abv.8%), a COSMO shot at the second bar, a Belgian Lager at the 3rd bar and a Kamikaze shot at the club + a wristband with special discounts in the bars we go to, a guide for 3 hours or more as well as the visit of 4 bars, friends for the night (or longer), the best of Brussels nightlife,...

What if I come with many friends?
If you come with a group, you have two options:
A. Join our regular 12€ Pub Crawl but book beforehand on our website or you can pay 15€ in cash at the start of the tour, directly to the guide.
B. Book your private tour where you choose the start/end times and locations, we include more drinks, a special theme, costumes, food workshops, up-scale places,...you decide, we deliver!
Is there any drinking age in Belgium?
Yes, its 16 for beer and 18 for stronger liquors. But we only accept people 18 years old or older at the Pub Crawl. Even if that does not occur often, bar staff might ask you for ID if you look under 16 years old.
-----------
Here are some Frequently Asked Questions, if you have one that no one asked before, drop us a line contact@brusselspubcrawl.com
BOOK