Beer Tasting + Pub crawl=19€
20:00 01:00
We kick-off the night talking & drinking beers (pils, trapists, gueuze, kriek cherry beer,...) then, after boosting your beer knowledge, we hit the bars of Brussels! This combo is the best value you can get to make the most of Brussels nightlife. Belgian beers, cheap cocktails, DJ every night and much more!
This is the best way to experience Brussels at night at the cheapest price! 19€ per person.
Availability limited >> online booking compulsory.
BOOK NOW
OFFICIAL T-SHIRT for 7€
WHEN YOU BUY THE COMBO TOUR
Beer Tasting + Pub crawl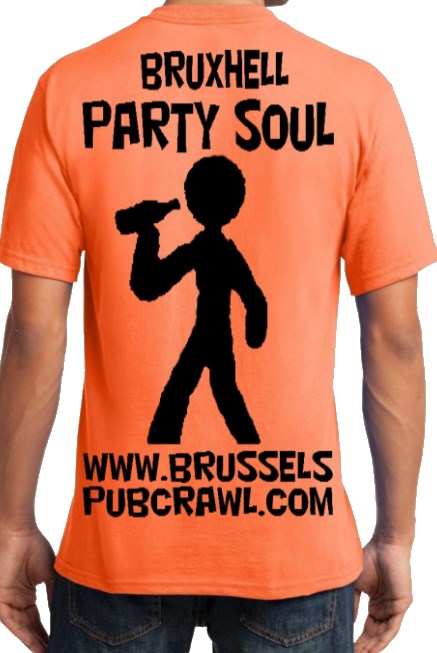 Don't just join the tour, be part of the crew! We have 100 copies of this shirt that suits both men and women and is available in 3 European sizes (S,M,L). Because we are not a clothing store, we are selling them at the cost, so for just 7€, you go home with your Brussels Pub Crawl souvenir t-shirt.

How can I order the t-shirt? When you book the combo Beer Tasting + Pub Crawl, you will be able to select the shirt and the size at the check-out, directly in our booking system. You will receive you t-shirt at the start of the tour.

Do you ship them? No, we don't. The only way to get the t-shirt is to take part in our Pub Crawl in Brussels.

Can I just buy the t-shirt and the pub crawl but not the beer tasting? No, at the moment we only give them to people that join us the whole night from 8PM for the beer tasting until....

If you have any other question, drop us a line: wishes@brusselspubcrawl.com
BOOK NOW